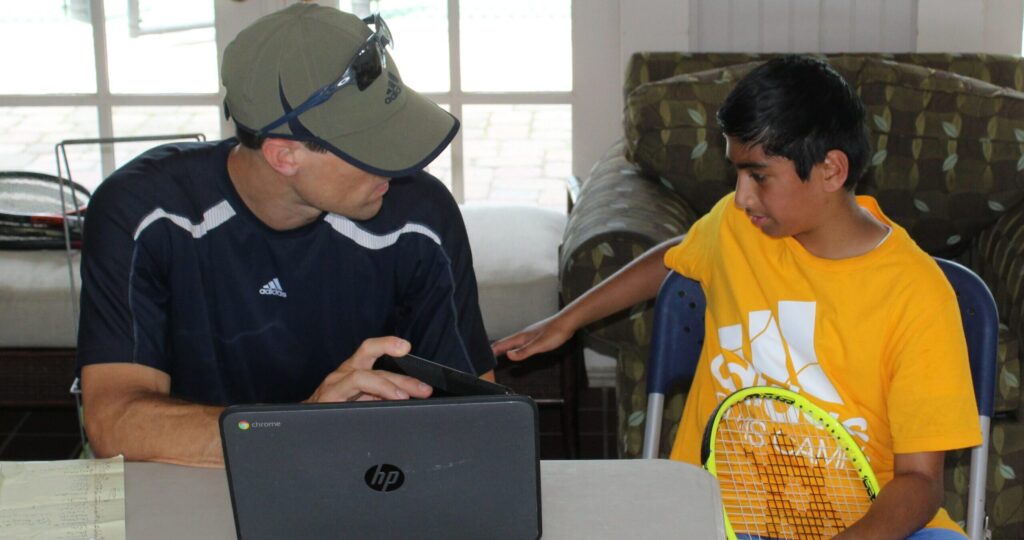 What does my child need to bring to camp?
For Day Camp: Health form, racquets, bag, hat, water bottle, sunblock, wristbands, extra t-shirt, and lunch* (* Some facilities provide lunch, others do not. We will inform you well in in advance. Pre packed lunches will not be refridgerated, so please plan accordingly).
For Overnight Camp:  All of the above plus: athletic socks, t-shirts, shorts, sweatshirt, off-court clothes, pajamas, bed linens, sleeping bag/blanket, pillow, towels, toiletries,  PORTABLE FAN (important!), alarm clock, bathing suit, hat, spending money.
What are the qualifications of the staff ?
The Directors of each sport are qualified by their multiple years of teaching and playing experience. The remainder of the staff consists mostly of college players who are qualified by their past teaching and/or playing experience. All technical instruction will come from the Directors, with the staff's role to conduct drills, games, supervise campers and generally create a safe and fun environment for the campers. All staff members are carefully selected, trained, and most have been with us for multiple years.
What is the staff/camper ratio ?
We try to maintain a 4:1 ratio for our tennis program. There are some activities where campers will be working one on one with the staff, and other times when the ratio becomes higher during certain group drills, games or activities.
How are the campers supervised ?
By Connecticut State law, overnight camps are to maintain a 10:1 camper/staff ratio. Our ratio is lower than that. Every night a Director, Director of First Aid and at least one other staff member will stay in the dorms with the campers. Campers are supervised 24 hours per day, and are not allowed to go anywhere on campus without an accompanying staff member. Only staff has keys to access the dorm building. 
Is lunch provided?
Lunch is provided at Avon Old Farms and Fairfield University.  Choate campers will need to bring lunch Mon-Thurs, and Friday will be pizza day provided by the Camp. With the exception of some Fridays (which is pizza day during our team competition) campers at Avon and Fairfield U will eat in the dining hall with a choice of several hot entrees, sandwich bar, salad bar, fresh fruit, a variety of drinks, and etcetera.  Our overnight campers will be served three meals per day along with snacks.  Any and all dietary restrictions can be accommodated.
What is your device policy?
Phones are not at all necessary and campers are discouraged from bringing them to camp. With that said phones are allowed but are restricted to VERY LIMITED USE at camp. Campers will not be able to use their phones during training, meals or any camp activities. In fact, the only time phones are allowed to be used is after dinner during the evening activity. This would be the time when kids can contact family and friends and can generally "reconnect" with their devices. Each evening before lights out the staff will collect camper phones and return them in the morning. This ensures that campers will get an undistracted night's sleep. Tablets and laptops are not of any use at camp and are highly discouraged. 
How do you group the children?
The camp is generally divided by competitive players and non-competitive groups. Those groups are initially formed by the director, but each day change based upon player performance. Occasionally the director may adjust groups to make them more balanced with consideration for age and / or gender.
Is the camp licensed?
Yes.  Beyond Camps (operated by First Serve Tennis LLC) are licensed by the State of Connecticut Department of Health.
How do I check to see if there are still openings for the weeks I would like to attend?
Please call the adidas Tennis Camps office at 800.944.7112 to check availability and to enroll. Space is limited and campers are registered on a first come/first served basis. The fastest way to enroll and ensure a spot for your child is to register online.
My child is a first-time overnight camper. How can I prepare him or her for camp?
An important part of the camp experience is the opportunity for your child to explore a world bigger than his/her neighborhood and a chance for you and your child to practice "letting go." Being at camp facilitates autonomy and a stronger sense of self to make new friends, develop new social skills, learn about teamwork, be creative, and etcetera. A side benefit is that parents will be able to have some time for themselves so that they will feel refreshed when their child returns home.
Talk about your concerns. As the first day of camp approaches, some children experience uneasiness about going away. Encourage your child to talk about these feelings. Communicate confidence in your child's ability to handle being away from home.
It is important for both parents and campers to be realistic about the camp experience.Camp, like life itself, has high and low points. Not every moment will be filled with fun and excitement. Discuss both the ups and downs your child may experience. Parents should not pressure their child to achieve specific results, keeping in mind that camp is meant to be a healthy and fun learning experience.
What happens when it rains?
Choate: from 9-11:15 am, interactive indoor activities will take place including video analysis,physical training, tennis quizzes, player evaluations, etcetera. During lunch (which will be earlier on rain days) a decision will be made as to whether the courts are playable for the afternoon session. If rain persists then campers will be transferred by bus to a local indoor tennis club for afternoon training and will be brought back to campus for 4pm pickup.
Avon Old Farms: during rain all campers will utilize the indoor field house on campus. This area converts to three tennis courts, three basketball or indoor soccer space and can also be used for physical training, video analysis and a variety of other activities. In the case of a full day of rain coinciding with a large number of campers, some or all campers may be transported to a local indoor tennis club by bus. Day campers will be returned to campus for 5pm pickup.
Fairfield University: during rain the campers will have use of the indoor multi recreational space used for physical training, video analysis and a variety of other activities
What if my child has special dietary requirements?
Campers with special dietary needs can be accommodated. We are VERY used to having campers with dietary restrictions. Just contact us well in advance to let us know the specifics. Our dining staff will be happy to store and prepare any food that is not on the menu, however in some instances parents may need to provide this food.
What if my child needs (or may need) to take medication (even over the counter) at camp?
For kids that need (or may need) to take ANY type of medication at camp (prescription or over the counter medications such as Advil, Tylenol, Claritin etc) then it is essential that the proper steps are taken and documents prepared PRIOR to check in at camp. These documents include providing signed doctors' orders for each medication and a signed parental consent form. Also, the doctor must specify dosage and administration instructions. All medication MUST be in their original containers and must be with the prescription, even over the counter medications. EPI pens must be in their original labeled packaging with signed doctors' instructions. NO EXCEPTIONS. All necessary forms will be emailed to parents prior to camp start.
Testimonials
My son has participated in Michael's tennis camp for the past 3 years and has had a very enjoyable experience.  The camp is super organized and run very well. Michael is a fantastic tennis coach. He is very thorough, patient and encouraging.  My son's level of tennis has consistently become better after working with Michael and his staff. Not only is Michael a wonderful tennis instructor  but he is also a wonderful person. He really cares about his students and I recommend his tennis camp wholeheartedly. My son can't wait to go back this summer!  
Sonia K.
NY, NY     
Dear Michael,
I have grown so much as a tennis player since I began working with you and you help me with not only tennis, but also becoming a better person. You and the other staff members have an abundance of experience and help us individually, while also reminding us to apply sunscreen and to hydrate! What really makes me feel welcome, though, is how much you and the coaches care and go out of their way to work with me and make my experience even better. Everyone is extremely friendly and you instantly feel at home. I hope you and your family can visit us in Quogue again and I can't wait for tennis camp this summer.
Kabir M.
New York, NY
I have been attending MFTA for the past 4 summers and I have already signed up for my 5th. I really enjoy tennis camp every year for many reasons. I have learned all kinds of important skills and improved all aspects of my tennis game every year. My coaches at home have told me they see a big difference after each summer.  The camp days have a mix of games, drills, and matches. This makes the camp day fun. You also learn to work as a team– the campers are split up in to teams in the beginning of the camp week to add some competitive spirit in the campers. We make up team names and songs which makes it fun. I have made friends at MFTA that I keep in touch with throughout the year and we plan to go back for the same weeks so we can see each other again. I can't wait until June so I can go back this year too.
Jake P.
Michael,
Thank you for another great summer of tennis!  Tyler attended one week last year and three weeks this year.  Your camps are his favorite part of summer and we are extremely impressed with your camp program.  It's such a unique combination of improving individual skills while also being part of a team and having a lot of fun.  Tyler looks forward to joining for several weeks next year and already can't stop talking about it!
Our youngest son also attended your half day camp for the first time this year and it was a great experience.  Ryan was thrilled to join the team competition on the final day of camp and had a smile from ear to ear. We can barely get him to take off the headband that he won from the prize box!  We'll be signing him for the full day camp next year.
Thank you again,
Kristy F
Hi Michael,
I just wanted to let you know how much my son enjoyed his first experience at your camp this year.  He will definitely be coming for a longer stay next time. We also wanted you to know how much he improved after only one week with you.  I wish you lived closer to us so he could work with you all year!
Thanks again!
Valerie R.
Westport, CT
As much as Michael is a great tennis player, he is a born teacher!  It is amazing how much he cares and how well he gets to know each student in just a week.  The drills, games, and friendly team competitions he uses are so innovative. They are age appropriate for each level, and so much fun for the students!   The other instructors at MFTA are wonderfully trained in his style, as well. There are enough staff to give each student much individual attention. There are many caring extras at the camp, from sun block to consistent hydration to prizes and praise for every student.  It is obvious that Michael puts his "all" into his tennis camp!
Lori H.
Wallingford, CT Michael –
Brief note to say thanks and let you know that Max had a wonderful week at your tennis camp and thoroughly enjoyed his experience! He came home with a huge smile on his face every afternoon!!  Staff is wonderful, campers were friendly and Max learned quite a bit in a few days! We played yesterday morning and he was thrilled to show me his stuff!
Gabrielle T
Cheshire, CT
Thank you for the best week of my summer!
Ethan H., camper
Massachusetts
Dear Michael,
With great pleasure we would like to write about Christine's experience at your camp.  As you know, she has attended both your day and overnight camps in the past. She was one of your original campers the first year at Choate. 
The first year we initially signed up for one week.  She loved it so much, she signed on for two more weeks.  Each year after, she signed on for as many as would fit in her schedule.
Your camp is fabulous. Its organized and very well run.  All the instructors are professional and are great working with the campers, regardless of their ages.  Christine still keeps in contact with some of the instructors and continues to be great friends with one her fellow campers she met the second year.  They are both high school freshmen now and are both playing #1 singles on each of their high school varsity tennis teams. They are both on the same USTA team playing singles and are doubles partners.  They even won a tournament championship playing doubles together. Your camp brought them together!
We love your camp and wish you all the best.
Debbie and Dan H.
"The MFTA/ Adidas Camp helped me to greatly improve my game. I attended camps for the past three summers and I loved it! The tennis professionals were very helpful and full of advice. The atmosphere was inviting for learning and nice environment for all ages and abilities. I never felt out of place. I improved so much that as a senior this year, I was voted captain and I played two singles for my school's varsity team. "
Tina D
Meriden, CT
I enjoyed The Michael Filipek Tennis Academy! My tennis improved there thanks to its coaches who cared for my tennis level!! They raised my hopes for that I am very grateful to them!! Moreover, campers were friendly and I never felt bored there!! I was treated very well and I do not feel sorry about having come there!
Alexander T
Moscow, Russia
(Now accepted to play college tennis in the U.S.)
Hi Michael,
First, I wanted to let you know that Derek had an awesome time at your camp again this year. He had such a great time his first week last year that he signed up for 3 sessions this year. When we came to check in on the first day, you remembered Derek from last year and called him by name. As a parent, it means a lot that you get to know the kids and genuinely care about all of them. I am very impressed by how you run your camp, the quality of the tennis instruction, and how you make it fun for the kids. The games and team competitions are a great way to foster love for the game and improve each child's individual game at the same time. Derek made a lot of new friends and continues to keep in touch with them.
I also wanted to take a minute to thank you for your compliments on Derek's tennis game. He has been working very hard to improve and has been pretty successful at the USTA tournaments.
Sheryl C.
Glastonbury, CT
"Our son Donovan has been a part of The Michael Filipek Tennis Academy since the age of four years old. Each summer he looks forward to a new experience with highly trained, highly motivated instructors as well as players. Michael Filipek does an awesome job creating a most meaningful program for young players. It should be noted that he is looked upon as a force for direction and purpose with regards to a very stimulating, intrigued group of students.
The program is active, creative, and intelligent. We endorse it in every way possible and look forward to Donovan playing for many more years…"
Steve and Ingrid Doviak, parents of Donovan, age 8
Hello Michael and Team,
Just a quick note to let you know how impressed about the quality of teaching and the level of care you give the kids. This was Gabe's first time at playing tennis and I was so pleased to hear him talk about tennis and how he wants to pursue it further!
He wants to sign up for his school team and he absolutely will return next Summer!
Thanks again for infusing your passion for tennis…it is obvious to us that your camp exceeded our expectations…
Cheers to the whole team!
Nathalie V.
A few words from the parents of Louis Jacquier (camper at Avon last week of July):
Louis was delighted once more with his 2011 tennis camp with you, appreciated the team, the Avon college, the fun – and so proud that his tennis level had improved when he played his August tournaments back in France!
Thanks for making our adolescents enjoy their holidays, which is not so easy!
Catherine Langlais-Jacquier
Tennis camp was great! The counselors were all so nice and i definitely got my money's worth of tennis in. I would definitely do this camp again.
Talia S.
Hi Michael and Monika,
My son Tomas really enjoyed tennis camp this summer even though it was the hottest week of the summer!
He felt that he learned the most about his positioning on court. He also enjoyed meeting new kids. He is definitely planning to attend next year.
Thank you so much for all you did for him including helping match him with a nice roommate.
Sincerely,
Olof
Hi Mike & Monika,
Michael had a great time at camp. Not only did he improve on consistency but more important, he gained confidence in his ability to compete.
As I told you the last week of camp, Michael was preparing to compete in our country club's Jr. Championship. For the last 3 years, he made it to the finals but could never break through and beat his arch-nemesis.
Well this year, Michael went into the tournament with a very positive and confident attitude and beat his opponent in the Doubles and Singles Championship Match very handily. His opponents had no answers for this shots and many of his serves.
It was such a beautiful thing to see Michael play so well with such confidence! Thanks to you and the very competent tennis professionals for making your camp program a gratifying experience.
Keep doing what you do and we will see you again next year!
Pattie & Michael D.
My daughter, Adrianna had a fabulous experience at the tennis camp. She is interested in doing more with tennis. Thank you very much.
Lisa T. (her mom)